So, when I was told that my blog post was for this Monday, I thought, "OH NO!!! What in the world am I going to write about?!?!?!"  I feel so inadequate in writing after all the wonderful post that have been posted here lately.  So I told Heather Marks that I was going to steal one of my husband's messages!  🙂  Then I told him I was going to do it!  AND I DID!  🙂
This message is one he brought on  May 19th, and I think it is one that we all need to be reminded of every once in a while.  It's a message of thinking of others.
 1.  Be willing to SERVE one another.  Humility.  Jesus served other people.  Our flesh says it is all about me, but Jesus says it is about others.  He showed us by being an example of this:  
"If I then, your Lord and Master, have washed your feet; ye also ought to wash one another's feet."  ~John 13:14
2.  Be willing to LOVE one another with a Christ like love.  Do you realize that even though Christ knew Judas was going to betray Him, He still loved him?
"A new commandment I give unto you, That ye love one another; as I have loved you, that ye also love one another."  ~John 13:34

3.  Be willing to PREFER one another.  Put the other person first; value them more. 
"Be kindly affectioned one to another with brotherly love; in honour preferring one another;"  ~Romans 12:10
4.  Be willing to RECEIVE one another.  Take into one's heart.  
"Wherefore receive ye one another, as Christ also received us to the glory of God."  ~Romans 15:7
5. Be willing to ADMONISH one another. 
"Let the word of Christ dwell in you richly in all wisdom; teaching and admonishing one another in psalms and hymns and spiritual songs, singing with grace in your hearts to the Lord."  ~Colossians 3:16
6.  Be willing to BEAR their burdens.  Don't live a lonely life.  Be there for others because there will come a time you will need someone to be there for you. 
"Bear ye one another's burdens, and so fulfil the law of Christ."  ~Galatians 6:2
7.  Be willing to FORBEAR one another.  In other words, put up with them.  Yes, they might get on your nerves, but have you ever stopped to think that you might get on someone's nerves as well? 🙂
"With all lowliness and meekness, with longsuffering, forbearing one another in love;"  ~Ephesians 4:2
8.  Be willing to FORGIVE them.  The forgiven forgive.  After all  that Christ has forgiven us of, we should forgive others for what they have done to us. 
"And be ye kind one to another, tenderhearted, forgiving one another, even as God for Christ's sake hath forgiven you." ~Ephesians 4:32
9. Be willing to EDIFY.  Encourage and lift up others.  If you want to go higher, put someone else on your shoulders. 
"Wherefore comfort yourselves together, and edify one another, even as also ye do."  ~1 Thessalonians 5:11
10.  Do not ENVY others. 
"Let us not be desirous of vain glory, provoking one another, envying one another."  ~Galatians 5:26
The following are some thought provoking questions to ask yourself:  
*How has Jesus loved me?  How have I loved Him? How have I showed His love to others?

*Have I denied Him?
*Have I stayed close to Him?  Have I been in His word daily?  Have I spoken with Him?

God has always been good to me no matter how I have loved Him and/or served Him.
Basically, what most of this boils down to is LOVE.  We don't do things for love or because we want love, we do them because we DO love!  Love as Christ loves.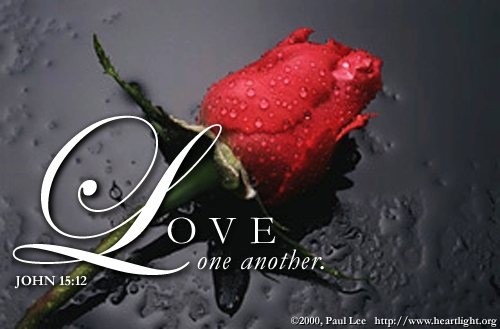 "Though I speak with the tongues of men and of angels, and have not charity, I am become as sounding brass, or a tinkling cymbal.And though I have the gift of prophecy, and understand all mysteries, and all knowledge; and though I have all faith, so that I could remove mountains, and have not charity, I am nothing.And though I bestow all my goods to feed the poor, and though I give my body to be burned, and have not charity, it profiteth me nothing.Charity suffereth long, and is kind; charity envieth not; charity vaunteth not itself, is not puffed up,Doth not behave itself unseemly, seeketh not her own, is not easily provoked, thinketh no evil;Rejoiceth not in iniquity, but rejoiceth in the truth;Beareth all things, believeth all things, hopeth all things, endureth all things.Charity never faileth: but whether there be prophecies, they shall fail; whether there be tongues, they shall cease; whether there be knowledge, it shall vanish away."  ~ 1 Corinthians 13:1-8
Some ways to put into "action" some of the points mentioned above is to be around others that actually do them.  This week at Fort Bluff Camp, the Our Generation Camp 2013 will be taking place.  Please be in prayer for these young people that the Lord will speak to them and lead them in the direction that He has for their lives. 
~Stacey